About Us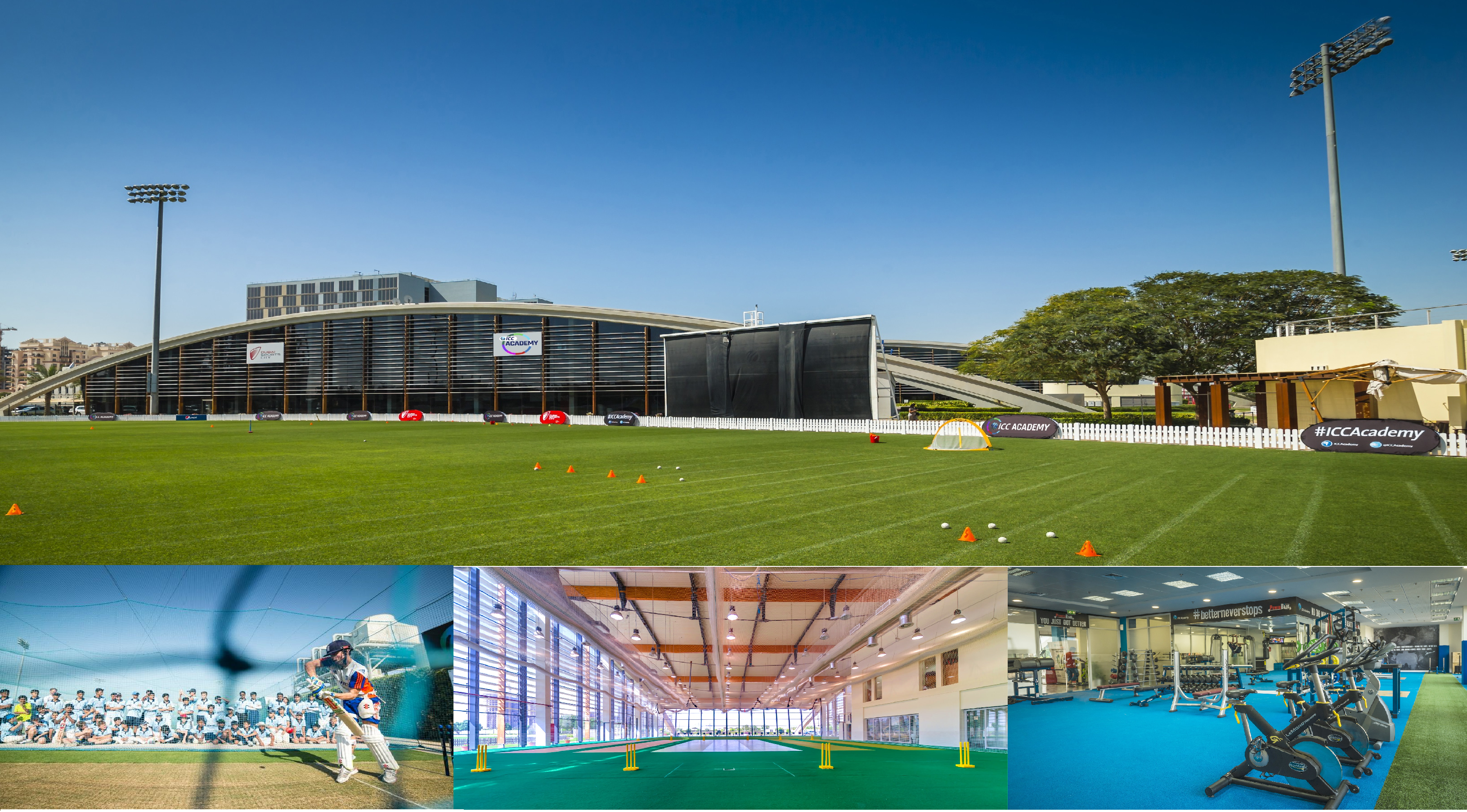 The world's leading cricket development, education and high-performance center, The ICC Academy is the future of cricket. A purpose-built facility designed to improve cricketing performance; the ICC Academy is situated directly next to the headquarters of the International Cricket Council (ICC). It's strategically located in the heart of the Dubai Sports City community, just a stone's throw away from the 25,000-seater Dubai International Stadium.
Our emphasis is to deliver world class services in cricket through what we refer to as our 4 pillars at the ICC Academy:
High Performance:

The ICC Academy is the centre of excellence for world cricket designed to nurture international talent and prepare them to participate at the highest level. With state of art facilities, The ICC Academy is the perfect place to stage training camps for cricketers of all levels and abilities with focus on skill development and conditioning.

Education:

Learning doesn't just stop with the player. People participating at every level of cricket can accelerate and develop their learning at ICC Academy through formally accredited and globally-recognized Coach Education, Umpire Accreditation and Turf Management courses and workshops.

Development:

When you want to shape the stars of tomorrow, there is no room for compromise. That's why every detail at ICC Academy has been specifically designed to enable players' reach their potential. Be it an international superstar or a young player just starting out in the game, ICC Academy seeks to support every cricketer through its full-fledged facilities, rich resources, and well-trained personnel.

The Academy offers a comprehensive grass-root player pathway for players of every age and ability, both at the Academy venue and through satellite programs and overseas tours. Players can access coaching, games, festivals, tournaments and much more, as well as 1:1 coaching, holiday camps and specialist camps. Besides having an own full-time team of development coaches, the Academy has visiting and guest coaches who take part in the world-class programs.

Our development programs equip all our players with skills and expertise to perform at the highest level. Our warriors have gone on to perform at various international leagues and tournaments around the world.

Our current programs include:

Cricket Cubs: An introductory program for children aged 4 - 6 to learn fundamental movement, game play and social skills in a world class environment.

ADIB Warriors:A comprehensive coaching program with age group coaching at every level for players (girls and boys) aged between 6 – 18.

The Senior Warriors: An open-age (18+) coaching and game-play program

ICC Academy Satellite Coaching Program:A satellite coaching program taking the ICC Academy Warriors coaching concept into schools across the UAE and GCC region with opportunities for schools to compete in festivals at the ICC Academy

Domestic Events and Tournaments:

Backed by a robust infrastructure, the ICC Academy can turn domestic and corporate events into spectacles. The facilities at the Academy are tailor- made to host various cricket centric activities to help local and regional teams to gain relevant practice and competitive experience. ICC Academy also organizes its own indoor and outdoor tournaments featuring domestic clubs, social and corporate teams to reinforce and support the domestic structure of Cricket in UAE.
ICC Academy prides itself on its indoor and outdoor facilities that are unarguably the best in the world. They include:
Indoor Facilities
Multi-purpose, air-conditioned training space which can be easily adapted to suit coaching requirements including center wicket training and indoor games.
6 Indoor practice pitches and nets: 2 spin friendly nets, 2 pace friendly nets, and 2 batting wickets with full length run ups.
Turf fielding area.
Dedicated batting simulator lane – BatFast
Integrated video analysis cameras – PitchVision.
Bowling and fielding machines.
2 Changing rooms with a fully equipped recovery area and ice baths.
Physiotherapy treatment room.
ICC Academy Power Base Gym: the regions first cricket-specific indoor and outdoor functional training, conditioning, and physical testing facility.
Fully equipped cricket retail store.
Public food and beverage area serving snacks and beverages.
Outdoor Facilities:
2 Floodlit full-size ovals accredited for ODI and T20 cricket, both containing Asian and Australian turf wickets (Gaba and WACA wickets and electronic scoreboards).
Floodlit practice area including 36 practice pitches (12 Australian, 12 Pakistani, 4 English, 7 synthetic and 1 hybrid spin pitch).
Floodlit Cricket Cage area; multi-purpose training, coaching and game play area containing 6 retractable cricket lanes.
Air-conditioned pavilion with 4 fully equipped changing rooms incorporating player and spectator seating, plus match officials' changing rooms and officiating and analysis rooms.
Outdoor Facilities:
To sharpen the competitive edge, both individual players and teams need on field performance and intense preparations. The academy provides each player with various facilities that enrich them physically and mentally through the Power Base gym that includes:
Indoor functional training space with:
- Olympic lifting areas
- Free weights
- Push/pull and sprint track
- Keiser
- CV training machines
- Boxing and push/pull bars
Plyometric equipment
Outdoor Facilities:
- Olympic lifting and push/pull rig
- Sprint and plyometric areas
- Push/pull track
- Integrated testing markings